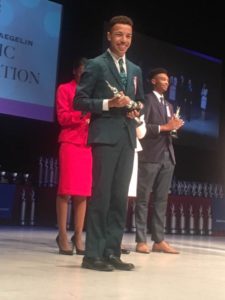 Important Info and Upcoming Tournament
PARENTS & STUDENTS:
We are having a Parent/Guardian informational meeting at 6:30 PM Tuesday, Sept. 18 in Room 832. This meeting is an important opportunity for us to meet you, and discuss the rules, expectations, policies, and requirements of this activity. Our team wouldn't survive without the assistance and support of parents.
Practices are Monday and Wednesday
from 5:00PM - 8:00PM.
What is Speech and Debate?
This activity is sometimes really tough to understand. People hear "Speech and Debate" and they think about arguing around the dinner table, or political pundits on the news shouting one another down, or that awesome Denzel Washington movie.
None of those things (well, except maybe the Denzel Washington movie to some extent) really captures what it is that we have to offer.
"Speech and debate is an academic activity typically available to students in middle school, high school, and/or college. Similar to athletic sports, speech and debate activities are challenging, competitive in nature, and require regular practice, coaching, dedication, and hard work." -NSDA
Speech and Debate has four primary types of event:
» Debate Events
Debate Events
Lincoln-Douglas: a one-on-one discussion of what we value most in society. When faced with tough questions, how do we approach them in the most suitable way for the improvement of society? LD debaters investigate the philosophical decisions that we have to make every day.
Policy Debate: the oldest form of debate (the one from that Denzel movie). This debate is conducted in a team of two, and focuses on a different topic each year. This year, students will debate if the United States federal government should substantially increase its funding and/or regulation of elementary and/or secondary education in the United States. Loads of research and effort go into this fast-paced debate that covers the policy implications of taking action in various circumstances.
Public Forum Debate: loosely based on the CNN television show Crossfire, PF debate topics are ripped from the headlines. Teams of two battle over topics of relevance to the current cultural climate. PF was designed to be media/public friendly, and focuses heavily on delivery and persuasion.
Congressional Debate: a hybrid between debate and limited-prep speaking, students write legislation, research and study the 'docket', and enact a mock congress similar to the US House of Representatives, speaking for and against bills on topics that are creative and compelling.

» Show Less
» Limited Preparation Speaking Events
Limited Preparation Speaking Events
Impromptu Speaking: Just as the name sounds. Students are given their choice from 3 topics, and they have 7 minutes to prepare and perform a speech. While the name may suggest that practice isn't required, being good at Impromptu means thorough preparation before the tournament even begins.
Extemporaneous Speaking: Colloquially referred to as "Extemp" this event is one of the crown jewels of the speech and debate community. Students prepare by reading and filing articles from a variety of news and analysis services. At the tournament, they are given their choice of three questions on current events, and half an hour to prepare a 7 minute speech using sources from the information that they filed. With a new question each round, students develop a staggering familiarity with what is going on in the world, and the ability to speak intelligently about almost any topic you can imagine.
» Show Less
» Platform Speaking Events
Platform Speaking Events
Original Oratory: A ten-minute persuasive speech on the topic of a student's choice. This is the sort of speech people think of when they think of speech and debate. Crafting, revising, and honing an Oratory is an opportunity to learn about rhetoric, research, the writing process, and creative performance.
Informative (Expository) Speaking: This is also a ten-minute pre-written and memorized speech, with visual aids, designed to inform the audience about an interesting topic. Topics vary widely, and this event allows for students to demonstrate their creativity and ability to visually engage an audience.
» Show Less
» Interpretation Events
Interpretation Events
All of the interpretation events are 10 minute performances of various types of literature, memorized and delivered with extraordinary ability. They teach students artistic expression, how to closely read and interact with literature, and how to create emotional connections with an audience in the service of their message.
Duo Interpretation: 2 people, 1 piece, and incredible technical skill. Duo Interp prohibits the actors from direct eye contact or interaction with one another, requiring off-stage focus. This means that students get very creative with the way they interact with the literature, the audience, and each other.
Dramatic Interpretation: Serious literature leads to touching and powerful performances of some of the most remarkable characters.
Humorous Interpretation: Wild, funny, and technically clever. HI is fast, frenetic, and often absolutely hilarious.
Prose Interpretation: Students choose a selection from a piece of prose to perform. This one has a book (a black binder), adding a dimension of creativity regarding the use of the book to enhance the performance.
Poetry Interpretation: Students select either a single long poem, or (more commonly) a variety of poetry around a theme. Performing these poems enables a different kind of storytelling. This one also has a book.
Programmed Oral Interpretation: POI is our final book event. This is a collection of prose, poetry, and dramatic literature combined creatively to tell a story. Long a fixture on the college speech and debate circuit, it's new to Arizona and the NSDA.
Duet Acting: Just like your acting class. Students get a table, two chairs, and they perform their scene.
» Show Less
McClintock's  Speech and Debate Team has won several state championships throughout their history. We continuously have national qualifiers AND national finalists. We value each and every student that becomes a part of our team. Above all we help students find their voice and encourage them to positively impact the world around them with the skills they learn from this truly amazing activity.